PMSC is a cause-oriented organisation that promotes the rights and welfare of Filipino migrants in Canada. The goals of PMSC are to organise, mobilise and educate overseas Filipinos on the issues of migrants and the Filipino people in order that they are better able to defend their rights.
PMSC was initially known as the Philippine Multicultural Society of Canada. It was set up in 1996 as a support group for Filipino domestic workers and live-in caregivers. The initial objective of the organisation was to work toward the integration of all Filipino Canadians and other ethno-cultural groups in the economic, social cultural and political life in Canada. In the year 2000, PMSC changed its name to Pilipinong Migrante sa Canada, and renewed its mandate and broadened its focus. Its membership base now includes all migrant Filipinos.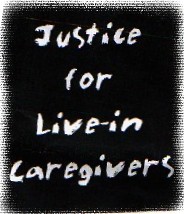 PRESS RELEASE
MARCH 5, 2014 BAND AID OTTAWA - International Women's Day Event
Come join us and support the efforts of migrant women to help rebuild the communities in the Philippines devastated by Typhoon Haiyan/Yolanda.
Irene's Pub ~ 885 Bank Street
OTTAWA, ONTARIO – On December 3, 2013 we opened the doors of the MontgomeryLegion on 330 Kent Street for a fundraising event to support urgent needs and reconstruction efforts among urban and rural poor communities that have been devastated by Typhoon Yolanda/Haiyan in the Philippines last November 8, 2012.
The days leading up to the Auction and the Auction event allowed us to raise over ... see more
JuanaTejada Law and other changes to LCP: Victory to all caregivers
PMSC's Response to Recent Changes to LCP